Get a custom website that is affordable and
hassle-free!
Work one-on-one with our professional design team to get exactly what you want.
Completely custom website design based on your specific design vision and optimized copy to showcase your business
Option to include features on your website that include blog, forum, photo gallery, event calendar, secure login and more!
Ongoing marketing to get your business found on Google™, Yahoo!®, Bing® and more!
Call Today to Start
Starting at $114.95 /mo.*
$799.00 one-time website design fee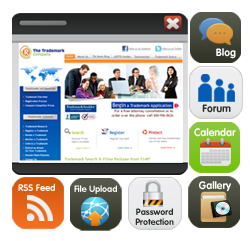 One additional feature included with custom website package, each additional feature $200.
Blog, Photo Gallery, Event Calendar, Forum, Secure Login, RSS Feed, File Upload
Sample Website Gallery
* Customers on a monthly billing cycle are billed every 4 weeks
A custom website provides a unique and professional image for your business online. Given that more than 70% of people now search online to find local businesses and services, it is important for your business to stand out from the crowd.
A custom website also provides the special features and customizations that you may need, such as a blog, a customer log-in section, an easy-to-update calendar, and more. These features will allow your business to connect with customers and keep them coming back to your sites for updates.
Register.com is a leading provider of website services - we have served over one million small business customers. We understand the unique needs of small businesses and have a wealth of experience in creating compelling websites that will not only drive traffic to your websites, but convert traffic to customers.
By choosing Register.com, you can be assured that we will be around to support your website throughout the life of your business. You will never need to search for a Web designer who has moved out of town in order to make updates and changes. We will be here to support your business when you need us.
Custom designed website with advanced graphics
Search optimized copywriting handled for you for 3 website pages
Layout and style unique to your business
Work one-on-one with dedicated web consultant
One hour monthly content updates and maintenance
Ongoing online marketing to get your website found in over 100 powerful search engines, directories, social sites and geolocation devices including Google™, Yahoo!®, Bing®, Tom Tom, Facebook Places, and much more!
10 branded email accounts
5 GB web hosting
1 special website feature add-on included - blog, forum, image gallery, rotating banner, secure login, password protection, event calendar, RSS feed, file upload, or multi-media upload